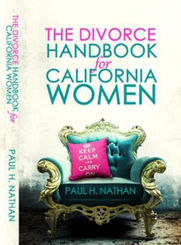 If you've recently filed for divorce in California, or you're just thinking about it, you need to be one of the first to get our new book!
Written by family and divorce law attorney Paul H. Nathan, a must-have resource, The Divorce Handbook for California Women.
Our information-packed book is filled with the answers to all the challenging questions that are keeping you awake at night. Avoid the drama and anxiety of feeling unprepared and overwhelmed as you navigate through the California court system, of "The Divorce Handbook for California Women."
To receive the book, please provide us a "spouse-safe" electronic mail and/or mailing address for us to send it to. Think about a spouse safe address before you enter you information to receive the book.
Our Divorce Book Shares:
• Do I Need an Attorney for My Divorce?
• The critical factors used to determine spousal support
• Property rights and classification recognized by California courts
• The essential factors your judge must consider in a contested custody case
• The formula to determine your percentage share of his retirement benefits
• 38 Financial Records you should be aware of
• 20 steps to prepare for divorce
• The different stages of divorce
• How to keep your credit score safe while going through a divorce
• 40 age-appropriate books about divorce for children
Our firm hopes you will be enlightened and find the answers to some of your questions in this easy to read and easy to understand book about divorce in California. We are here to help and answer your questions. If you need immediate assistance, please call our San Francisco office at (866) 414-4091.
Remember, there is no reason you need to go through this tough process on your own.
We look forward to assisting you however we can.
Paul H. Nathan
Founding Attorney
Fill Out the Form Below For Your Free E-Book
Fill Out the Form Below For Your Free E-Book