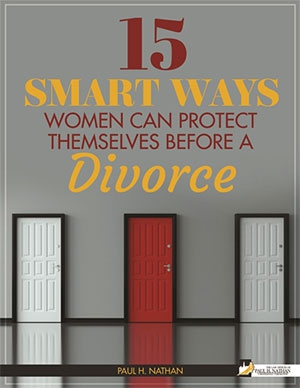 The possibility of filing for divorce may seem confusing, intimidating, or even terrifying. Unfortunately, many women who file for divorce may be met with hostility by narcissistic husbands who ignore their wives' contribution to the family—and these men may lash out in many ways in response. For this reason, it's vital that women are financially, emotionally, and physically prepared to take the necessary first steps.
The Law Offices of Paul H. Nathan is focused exclusively on fighting for the rights of women in divorce cases throughout the Bay Area. To ensure women are treated fairly in the dissolution of a marriage, attorney Paul Nathan wrote the guide 15 Smart Ways Women Can Protect Themselves Before a Divorce. When you download your free copy, you'll get information gathered through years of legal experience, helping you avoid being taken advantage of by your husband.
The guide offers insight into what women should do before and during the divorce process, including ways to:
Prepare your finances for a successful transition into your new life

Overcome the stigmas placed on women to achieve an equitable divorce

Prevent a vengeful husband from hiding assets or taking on more shared debt

Stay sane through this stressful time

Gather evidence of a husband's misbehavior or abusive actions

Stay safe and protect your children

Update paperwork and beneficiary designations after divorce

Ensure that your future is protected before you finalize a divorce settlement
Attorney Paul Nathan knows all too well that women face a double standard in divorce cases, and are often assigned blame by husbands who don't want to take responsibility for the end of a marriage. His experience as a trial lawyer makes him an ideal advocate for women in divorce, custody, and support matters and makes him a master at handling sensitive and intricate divorce matters.
After reading our divorce guide, you'll have the knowledge to make difficult decisions about your future with confidence. If you are considering filing for divorce in California, you have nothing to lose by requesting this free guide today. For additional information, please do not hesitate to call us with any questions at (415) 635-0411.